Eric was featured in Michael Moore's movie "SiCKO". This is the article that The Daily Olympian, our local Newspaper published on the subject from June 28, 2007. Enjoy!

Moore's movie 'SiCKO' spotlights Olympia man
Breanne Coats
The Olympian  June 28, 2007
OLYMPIA — When Eric "E.T." Turnbow of Olympia videotaped himself doing a handstand on London's Abbey Road in 1997, it had two unintended consequences: a fall that landed him in the hospital, and a role in director Michael Moore's new movie, "Sicko."
Turnbow, now 46, dislocated his shoulder and thought the resulting medical costs would ruin his vacation. He was surprised that during his hospital stay, which lasted several hours, he had to pay only for his medication. The cost was 5 pounds, the equivalent of less than $10 at the time.
"Sicko" will be in theaters Friday, including the Regal Martin Village 16 in Lacey. The film, Moore's first since "Fahrenheit 9/11″ in 2004, is a documentary aimed at highlighting the faults of the U.S. health care system. Turnbow said his London experience is used as a bridge for Moore to go from North America to Europe in the film. He said Moore goes to England to see if health care there is really that inexpensive.
Turnbow never talked directly to Moore during filming but said that at a premiere of "Sicko" June 14 in Seattle, Moore recognized him immediately and mouthed "thank you." "(Moore's) sister (Anne Moore) made the comment, 'You are the one that provided some comic relief in the middle of our little picture,' " Turnbow said about the premier.
Turnbow, a guitarist, singer and karaoke disc jockey, said he has been entertaining people since grade school. The passionate Beatles fan — his house is adorned with artefacts featuring the band — was in London to visit the place where The Beatles recorded. He was filming himself on the stretch of road immortalized on the cover of the Beatles album "Abbey Road" when he fell. He said about Moore, "I believe what he stands for. He's kind of a rebel, and I'm kind of a rebel as well."He agrees with Moore's stance about socialized medicine."What they need to do is take the profit factor out of medicine," Turnbow said.
Turnbow works nights as a DJ at the Viking Lounge in Lacey and owns E.T.'s Cosmic Karaoke. He said he surfs the Web as a hobby and subscribes to Moore's e-mail list.
Picked from 25,000
Moore had sent a message to his e-mail group asking for medical-treatment stories. Turnbow said Moore picked his response from about 25,000. In his message to Moore, Turnbow mentioned his short experience with England's socialized health care. "(Moore) just thought the thing on Abbey Road was funny," Turnbow said. "I don't mind a good laugh at my expense. I was honored to be a part of it."
After dozens of phone calls with Moore's assistants and turning over evidence to show his story was true, Turnbow received notification about a month ago that his story made it into the movie. Moore's assistants sifted through four hours of Turnbow's vacation footage and compiled a piece about two minutes long. Turnbow said it includes his arrival in London, singing an original song with a friend, the soon-to-be-famous fall and him on medication.
Turnbow took his sister, Katherine Peil, to the premiere. Other family members plan to see his big-screen debut Friday. "It's fun," said his mother, Jean. "Not everyone walks on their hands on Abbey Road."  Besides VIP passes to the Seattle premiere, Turnbow did not receive compensation. "I didn't ask for any money because I'm in it for the cause and to be immortalized," he said.
Breanne Coats is a news intern at The Olympian. She can be reached at 360-704-6871 or bcoats@theolympian.com. Click HERE for Northwest Karaoke and Entertainment Guide News Stories about ET.
**************************************************************************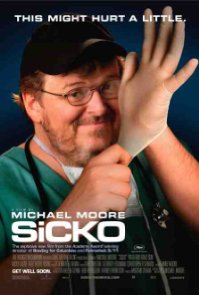 Sicko | 2007  Michaels commentary about Eric's visit to England, and how it appears in the film! ENJOY!
That's not hard to believe when you meet fellow Americans like Eric.

# Oh, England, here we go

Eric Turnbow of Olympia. Washington. Saved up his whole life

so that he could visit the famed Abbey Road cross walk in London.

But it wasn't enough for Erik to just walk across the road like The Beatles did.

He had to do it his own special way.

Here's Erik, about to walk on his hands across Abbey Road.

Ready?

Ugh!

Try it again.

Are you in pain?

Yeah.

The British hospital didn't charge Erik anything for his stay.

And only about ten bucks for all the way-cool drugs they gave him.

You're all slung up.

I'm gonna be OK.

I decided to go to Great Britain to find out how a hospital stay could be free.

And drugs could cost only ten dollars.

**************************************************
"Sicko" is a Top Movie Documentary Money Maker!
"Sicko" in Top 5 Grossing Docs of All Time — This Weekend it's "'Sicko' Night in America!"… from Michael Moore
Thursday, July 19th, 2007
Friends,
Good news! "Sicko," after less than three weeks in national release, has become one of the top five grossing documentaries of all time! So, this coming weekend, the distributor is expanding the movie by opening it in nearly 500 new theaters in small cities all over the country (for a total of nearly 1,200 screens nationwide)! From Rapid City to Carson City, from Gettysburg to Pearl Harbor, from Juneau to Battle Creek — they're all getting "Sicko" tomorrow (Friday). Scores of cities that never have a documentary come to their local theater will now be able to see this one. It's happening all thanks to you who live in the larger cities and have supported "Sicko" so strongly. It's led the studio to say, "Let's make more prints and ship them to Oshkosh (and Beaverton and Brattleboro and Sault Ste. Marie and…)." The entire country goes "Sicko" in less than 48 hours! (Check here for the complete list of theaters showing "Sicko" in North America.)
So, friends, this is it. This is the weekend to go see "Sicko" if you haven't seen it. I get a lot of letters from people saying they plan to "get around" to seeing it "soon." Well, soon is here! Trying to get theaters to give us screens when we are up against huge summer blockbusters is an almost impossible task. "Sicko" won't be around forever. And if you're waiting for the DVD, ask anyone who's seen "Sicko" — this is a movie you want to see with a crowd of people in a theater.
So let's pack the movie houses this weekend! Send an email to everyone you know, call your friends and tell them, "It's 'Sicko' Night in America!"
And, to show my thanks to all of you who'll go see "Sicko" this weekend, I'm going to send one of you and a guest on a free weekend to the universal health care country of your choice! That's right. You'll get to pick one of the three industrialized countries featured in the movie where, if you get sick, you get help for free, no matter who you are. All you have to do is send us your ticket stub (make sure it says "Sicko" on it and has the name of the theater and this weekend's date on it — Friday, Saturday or Sunday – July 20th, 21st, 22nd). Attach the stub to a piece of paper with your name, address, phone number and email and send it to: 'Sicko' Night in America, 888c 8th Avenue, Suite 443, New York, NY 10019. (Yes, you have to use that old 18th century device called the U.S. Postal Service, and it has to be postmarked on or by Tuesday, July 24th). First prize is a weekend in the city of your choice: Paris, London or Toronto. This includes airfare, hotel, meals and, most exciting, a representative from their fine universal health care system who will give you a personal tour so you can see how they treat their fellow citizens. You'll meet people who pay nothing for college and citizens who are in the fourth week of their six-week paid vacation. Oh, and you'll have time to see the Eiffel Tower, Big Ben or whatever they have in Toronto that is old and tall. (If you don't have a passport, we'll pay for that, too!)
Canadians who are reading this — you're probably thinking, "Hey, what about us? Where do we get to go?" Quit complaining! You're already there! But just to make it up to you — and to prove we don't hold it against you for smugly walking out of a hospital with the same amount of money in your wallet that you went in with — we'll let you participate in the drawing, too.
Thanks again to everyone who has gone to see "Sicko." Take a friend or two this weekend and celebrate "'Sicko' Night in America."
Yours,
Michael Moore
mmflint@aol.com
www.michaelmoore.com
P.S. I'll be on "The Colbert Report" tonight (Thursday) on Comedy Central. On a sadder note, my appearance on CNN with Wolf Blitzer has been moved to a later date. Wolf just called to say he had a death in his family and that we would have to re-schedule. Our condolences to him and his family.
****************************************************************
E-Mails from "Sicko" Movie Fans:
— Susan Graham <susangra47@comcast.net> wrote:
It was a powerful movie.  I, for one, am scared to death.
I have a friend that has her own story to tell -
Group Health basically told
her she had 2 years and to go home (she had a rare
cancer).  She fought them
and won and has been helping people win their
appeals to insurance companies
ever since.
She has written a how-to book on getting your insurance co to pay
(www.theinsurancewarrior.com) and would really like to help as many people as she can.  She's begun training people, gives
lectures, interviews, etc. Can you suggest a way of getting this information to Michael Moore's webmaster so she might be listed as a resource?
Thanks.
Susan Graham
Eric has responded to Susan:
Thank You Susan….
I am sure your story would be of interest to Micheal
Moore. He is compassionate man who takes his causes
seriously. I am so glad you saw the film! I really
think is powerful as well. Such a good cause that
would benefit all Americans. I have forwarded this
letter to my contacts for Micheal Moore. There is no
guarantee he will be able to help, but I have sent
your request to him all the same. Good luck. I am sure
he would love to hear your feedback. Just remember
that he is a busy man! be patient.
**************************************************************
This is Guy named Justin that was there in London when the  original home made video was shot in 1997. We met through the internet some 10 years later and this is our dialogue!
Wow.  I just saw "Sicko," and to my surprise I sawon the big screen my
encounter with you at Abbey Road from ten years ago. That was great!
Congratulations on making the film!!
I am the one-handed, fellow American there that day who was taking your picture.  Your hand-walking experience, while quite  painful to watch, definitely gave me a vivid lasting memory and story from my visit to Abbey Road, and I've told the story many times to my friends.  I always wondered how your shoulder turned out, and I'm glad everything was taken care of by the English medical system and that you are ok. Is there any way you make me a copy of the original footage from your trip…at least of that day at Abbey Road?  Or is there somewhere I could find it online?  I would really appreciate it.  Just let me know if you need me to somehow verify that it's me.  I now live in San Francisco.  Hope all's well,
Thanks!
Justin Wiener
PS: I don't know if you remember or have it on  video, but that day I was
there with a girl.  I happened to see "Sicko"  tonight with her!
(And Here is My Response to Justin)
Justin!!!!!
Wow what a small world we live in! We met in London, and because of "Sicko" we connect via San Francisco.Olympia and the internet! That is way cool! You must have been in the picture to! I will let Micheal Moore's office know that we connected like this. Itmakes a great footnote.
As for your request, there is a video posting of the event online. Here is the link. Just click the little movie icon below my picture. Let me know if that is good enough. I could possibly send you a vhs copy of the original shot. The paper copied it from my dvd and made a collage with an interview. Lot's of people have seen it. I am getting a ton of feedback.
**********************************************************
– Justin <justindw@gmail.com> wrote:
That sounds fine, Eric.  Gash…if only you had a
DVD!  I don't even have VHS
player here…but I think Sarah might have one.
So where can i send you the 10 bucks?
On 7/11/07, Eric Turnbow (E.T.)
I would need to bill you for shipping and a tape, Maybe ten bucks to cover my trouble?
Eric
Justin <justindw@gmail.com> wrote:
Eric,
I guess a watered down copy will do if you can't
get a DVD.
Thanks! -Justin
On 7/10/07, Eric Turnbow (Responded)
I have it on dvd and vhs. The vhs will be a little watered down since I sent Michael Moore the originals. and he sent me back the dvd and kept the originals. I am not burning dvd's yes, but could probably make you a watered down copy of all the Abbey Road stuff. I am glad you enjoyed the links. A lot of people have seen me in this flick! Incredible.
Eric
So  stay in touch check out the sign my boss put out at the club
I work at! Kind of cool……..
You may also want to read my report online! Check out
this link. Click the read more to see the whole story!
Thanks a lot, and great to hear from you. My shoulder
is fine.
Mr. Eric Turnbow
***********************************************************
More Fan Emails: From 2007
— Judy Ubusted <judyindaskyes@yahoo.com> wrote:
WOW!  I just watched the movie you attached to this email.  Are you interviewed in all the papers or just the Olympia one?  What were you doing on Abbey road that led to the hospital?? Michael Moore! Wow. Is he a cool person?  There's quite a bit of controversy about him. He has some pretty good  thoughts about a lot of things.   I bet it was pretty awesome to actually be where the Beatles were.  Is there a lot of memorabilia of them?  So did you take your family over there on vacation, or did you go by yourself?  You are on home movies, so I was wondering.   So you do a show every night at the Viking??  Not real familiar with that area.  Is is a good place to go?    Let me know ok?
(And I Responded Here:)
Yes…. HUGE Beatles fan. That is what led to my part in "Sicko" in fact. Takes     place in London at Abbey Road!
Yeah
We work at The Viking every night singing Karaoke and dancing and having a great time. You should drop in sometime.
I went to England twice. Once in 1992 for 21 days,which also included a 3 day stint in Paris France. Itravelled alone on that one. The second trip in 1997 I travelled with a friend of mine. I liked this waybetter so you can share the experience. We were in London for about 9 days and took a few days off tgo to Amsterdam! The music history in London is cool.There is plenty of memorabilia to buy there trust me! Yes, Michael Moor is a great man. I admire his work. It was thrill to meet him and be in his movie! Any more questions?
ERIC
*********************************************************
More Fan E-Mails:
I saw Sicko today – my birthday gift to myself!!  – and really enjoyed your story.  I LOVE the Beatles, and if I could, I would spiderwalk  backwards toward Abbey Road Studios.  Sorry that you hurt your shoulder – but it was really funny, too.
 Best of luck
Barbara Pomer
(Eric's Response)
Thanks Barbara
I am glad you liked it! Amazing to have my story chosen from 25,000 potential subjects! He had 500 hours of film to cut to 2 hours and he kept in my part! AMAZING!
Oh and happy birthday!
Eric
****************************************************
Bill and Julie Brewster <bbrewst@gmail.com>
Hey Eric,
Billy Brewster here. Heard the news on NPR the other day, Google news…
you, and there you were!Standing on your hands again.  You're not as
young as you used to be young man.  I tore my rotator cuff body surfing in Mexico but the pain wasn't bad enough to go to the hospital.  I don't think I would want to land in a hospital in another country than my own, but I
have heard a few success stories.  I still have clear memories of you walking up and down those stairs in your home as a kid.  Did you ever get an entry in the Guinness  World Book of Records for most consecutive days living life completely from hand stands? Well, I guess I have a reason to see "Sicko" now. It would be good to see it so I can have an intelligent conversation with my brother.  We failed miserably after F-9-11 came out.  I didn't have a clue and he was all over it.
see you, Billy Brewster
currently residing in Gig Harbor,
(And My Response)On 7/4/07, Eric Turnbow (E.T.)
Thanks Bill! Great to hear from you my friend! And give me a ring when you are down this way. I will have you over. My house rocks! I also work in a club on Martin way almost every night, It is called The Viking. Come check it out sometime.Your Mom, Mary used to babysit me all the time when I was a little squirt. I would love to see her as well sometime.  Happy 4th!
My appearance in the major motion picture "Sicko" has brought me a lot of notoriety and fame. I have been in the paper (front page), online, video interviewed by the Olympian, on am radio komo 1000, and even linked to Micheal Moore's site in new York. It has been great for business too, I am swamped,and loving it, Lots of $400 and upwards weddings right now. Viking is rocking better than ever, Over 85,000 songs. My cd has seen a new resurgence as well, Lots of interest since I sing a bit in the movie. It is crazy. It has been a lot more than just 15 minutes of fame…… Still counting.
*******************************************************
hosshoss@comcast.netwrote:  Monday, June 18, 2007 11:35 PM
I'm happy for you Eric !!!….good job…
Barton l Herigstad
My sister said she has communicated with you by email. She is one hot smart cookie. Allays gives grea tadvice and is educated to the hilt. I am glad you connected in what little way possible. I admire her a lot, and am one damn proud brother, that is for sure!She has always supported me in whatever I try to do in life. That is a cool thing about her.
I also appreciate your support and assume that you are not the biggest Michael Moore fan out there, just like I am not a big George Bush fan. You know what I mean. I can agree to disagree. I have decided not to voice my politics at work in the future. It seems to have a conflicting effect! I will sort of just be "Politically correct" and conduct my duties as an all pro DJ! Sound good?
Good luck with your music. I have always admired your booming full voice. You have unmistakable raw talent. I can really see it in your performances! Stop by some night and sing one with me at The Viking, We will welcome you with open arms.
And remember, we all should walk down Abbey Road on ourhands, Hell, why not? They have free health care and cheap meds in Briton!
Eric
*********************************************************
(Another Fan Email from a Capital High Class Mate)
Subject: Re: [capitalhs79] Saw Eric's & Michael's Movie!
Date: Tue, 17 Jul 2007 10:27:19 -0700 (PDT)
Here is my review:   So, I rarely see movies any more before they come out on video – especially documentaries – but I had to make an exception to see our infamous classmate.  I saw "Sicko" Friday night, and in Canada, no less, while at a conference in Vancouver, so the crowd reactions were also quite interesting (puzzlement at the descriptions of US plans, deductibles, excluded pre-existing conditions, gasps for the poor cancer survivor who had to move in with her daughter, etc.).  Eric, your part was great
but painful to watch you fall.  Ouch, and your cameraman wanted you to do it again.  . . .    Do you have any plans to go back there now?   . . .   Your scenes drew many laughs, mine included.  Afterwards, I stayed and watched all the credits – I saw your name (right above Eddie Vedder's actually).  I bragged to several strangers that I knew you.  Separate from the politics of it all, it was a very funny movie to see. I recommend it.
Hi to everyone.  Two more years until the 30th. Yikes.
Take care, Linda
(Eric Turnbow (E.T.) Responds)
A lot of people have heard me on komo radio. I found it ion the web. I had not heard it myself since it was originally broadcasted  in the wee hours when shut eye was still in effect. I got a kick out of finally hearing it online. I hope you will as well. And go see the flick if you have not yet! I saw it twice. Once in Seattle, and once in Lacey. During my part the audience shouted in recognition of an Olympia man being showcased. the girl that sold me my ticket did not believe me when I mentioned I was in the film.Fine with me. You cannot change the reality of it all! A very specific, and moving for for sure. Enjoy. And never take yourself all that seriously. It's all good though.
**************************************************************
(Another Fan Email from a Capital High Class Mate)
Got back from AK and saw this little tempest.  I know I'm late with my comment here, but I got to say it. Eric, you're just great! Gonna' go see the movie now. Checked out the Olympian link, and love the footage. Hope we can meet up, maybe at one of Greg's shows.
Joe
(And My Response to class mate Joe)
Thanks Joe. I really appreciate it. There has been a lot of feed back and I love every bit of it. I am glad a lot of people have seen the film. It is a great piece if work. I predict it will win the Oscar for best documentary. I look forward to seeing every one soon. I have had a busy summer to say the least. My involvement in the movie has been fabulous and led to
more work and exciting stuff. I think it may just follow me around for the rest of my life. Permanent, on the resume and all. I am very proud of it. Sort of kicks my career to a whole new level! Stay cool everyone, because life is good. You do not HAVE to CONFORM! Just be yourself.
Eric
********************************************************
(This letter came from a Facebook Fan, and Family Friend, Valerie….)
Congratulations Eric!
That is so cool.  Remind me to tell you about our experience in England with taking Paige to the doctor there.
Long story short:  Paige was 2, before our trip I had been trying to get her treated through Group Health and they kept putting us off.   She was feeling a little better so we left for our planned trip to England.  After 2 days Paige fell ill again.  Instead of goofing around getting put off with an HMO — the English doctor admitted her to the hospital, actually gave her care, kept her in there for 3 days — and it didn't cost anything.  They couldn't understand why I was so worried about cost, they were focused on Paige not money.  They couldn't understand why I kept trying to give them our insurance cards.  Then it dawned on me — they were concerned about my child's health and not the MONEY.  We ended up making a donation to the hospital.
Paige had the best medical care in England — better than anything here.  So what we hear about their system being no good is just a bunch of crap.
Thanks Eric for sharing your story.
Valerie
___________________________________________
(Another Fan Email from a Capital High Class Mate Monday, July 9, 2007
Greg Roth <gregro@microsoft.com> wrote:
This is very cool! This is one movie I am not going to miss. I can't  think of much more important subject then this. The Medical industrial complex and insurance companies are out of control. This  is the most prosperous nation in the world and yet we rank in the  high 30′s in medical coverage for our citizens. I feel fortunate to be covered but it is scary to know that certain treatment decisions are made as business decisions instead of medical ones. Thank you for  your contributions and passion for this subject.
(And Fellow Capital High Graduate Eric Responds)
Thanks Greg…
It has been a whirlwind of press and feedback for me.The Olympian interviewed me 3 times and posted the article and video online. Then I went on the radio and KIRO am1000 last Friday. My boss at The Viking is
digging the exposure. He put a congratulation's to "Sicko Star" E.T. on the board outside, and encouraged people to stop in and meet me. They sure have!
I am glad you liked it! Amazing to have my story chosen from 25,000 potential subjects! He had 500 hours of film to cut to 2 hours and he kept in my part! AMAZING! I am proud to make that cut for sure!
Yes, it has been great for business as well.
And I enjoyed seeing your Band spread of pics back at the mother yahoo site. Way to go. Rock and Roll with tons of personality. When I saw you in High school starring in "God-spell" I knew you would get into the live performing arts! I ended up doing the same. but along the way ended up as more of a DJ Personality, and playing my guitar and writing songs more for the passion of it all. I guess I can make a better living as a D.J. and that is why I decided to go that route.I am a live musician at heart for sure. A bad-ass singer/songwriter inspired by The Beatles, Bob Dylan, Pink Floyd, and Neil Young among others.
Maybe I will see you again at Lakefair? It is just around the bend. I will keep an eye out for ALL fellow Class of "79graduates. They all seem to rock!
Eric
*****************************************************
(Another Fan Email from a Capital High Class Mate)
capitalhs79@yahoogroups.com, Kimberly Wakefield
Hey Eric,  How awesome is this?  Your email was great to
read and cant wait to see this movie.
Kim (Carroll) Wakefield
(My Response)….thanks Kimberly!
I hope you saw the article and video in The Olympian paper and online as well. It was posted at Micheal Moore's website and picked up just about everywhere. Stay in touch….
Ps I will be on the radio, komo 1000 on Tuesday afternoon. I did a phone interview with them about my involvement in the movie. Crazy strike of luck eh?
*****************************************************
This cool photo was taken at The Seattle Premier of "Sicko" with Michael Moore in attendance!
This next piece was Published in a local Aberdeen Newspaper
Harbor man appears in Michael Moore's 'SiCKO'
By Callie White – Daily World Writer Thursday, July 12, 2007 10:54 AM
Aberdeen native Ken Aronson has a passion for music and entertainment. So it should be a dream come true to him that he and a song he wrote are very briefly featured in Michael Moore's new movie "SiCKO," a documentary about the American healthcare system. But the part-time karaoke jockey said he doesn't feel he has received his due for the part he played in the movie.
Aronson's story, the one told in "SiCKO," starts with his love of the Beatles. He and his fellow Beatle-loving friend Eric Turnbow went together to England in April of 1997, they did the obligatory pilgrimage to Abbey Road, home to the studio that recorded the seminal "Abbey Road" album. Aronson videotaped the entire trip, starting with boarding the plane to get there.
So, of course, Aronson caught Turnbow doing the kind of stunt that tourists, intoxicated by being in an unfamiliar place, sometimes attempt. He started
walking across Abbey Road on his hands.
Paul McCartney's bare feet may have been a "clue" to teenage conspiracy theorists back in the day that he was dead; Turnbow, crossing the street on
his bare hands, may have thought he was about to die when he came down, hard, putting his shoulder out of joint.
"We knew we had to take him to a hospital,"Aronson said. When they got there, Turnbow handed a credit card to the staff on duty, telling them they
could charge him for healthcare.
Socialized medicine:
But, Aronson said, that didn't happen. Instead, Turnbow got some odd looks. Because of England's socialized medical system, it cost Turnbow almost nothing. In the movie, Moore contrasts that with the American medical system.
"In the U.S., he'd have been out $2,000 at least," Aronson said. In Britain, Turnbow had his arm reset for free; he was charged "three or four
pounds" for painkillers, about $6 at the time.
Aronson said the two were concerned they'd miss a tribute concert to Buddy Holly that was only a few hours from the time they got to the hospital. "We were out of there fast," Aronson said. They didn't miss a moment of the show, which Aronson said was "great."
Aronson contrasted his friend's experience inBritain with his here; not only has Aronson spent timein hospital waiting rooms, he is only now going in for surgery on his jaw and teeth, which were badly damaged when he was hit by a vehicle while working on the side
of his house.
Song in the movie:
"Before we left (for England), I came up with a song, 'Oh England,' " Aronson said. He taped the two of them doing an acapella version, which was used in the movie. (About 3 seconds).
Aronson is miffed that he did not control Moore's access to the video and song he claims are his work. Would he feel better if his name was in the credits? "I think so," Aronson said. He added that he would
not mind a share of the royalties for the use of his song.
RE Ken Aronson article about "Sicko"…. My responce!
Sunday, July 22, 2007 4:33 PM
From:
"Eric Turnbow (E.T.)" <etcosmic2000@yahoo.com>
To:
"Aberdeen news" <letters@thedailyworld.com>
Letters to the editor:
RE: Harbor man appears in Sicko…..
My name is Eric Turnbow, and I am responding to the article you published about my involvement in the Micheal Moore feature "Sicko". Feel free to print any of this in your paper as a letter to the editor!
First of all, I would like to be known straight up that there was no royalty or money payed out to me for the use of any info that was included in the film
"Sicko". I signed a waiver allowing the film makers to use any material they needed for the movie.
I am miffed by the fact that Ken said he wanted "Control" over the use of the song "Oh England", that we co-wrote together in the spirit of a Lennon/McCartney collaboration. In fact, I came up more than half the lyrics, and ALL the music to the song. Therefore it is "OUR" song. A joint venture. Let me point out that they never really used the song in the film. There is only a 4 second clip of both of ussinging a couple bars of it "Oh England Oh, oh, Oh England Here we go" while we were at the hotel room in London. That is it. The actual track is about 3 minutes and 54 seconds in length! I had given Micheal Moore a copy of my original cd "I'm Alive" and
released all rights to him should he be able to useany of it in the film, and he chose not top use the tracks.
I would also point out that I, Eric Turnbow own 100% of the copy write to this album. I wrote 14 and a halfof the tracks and sing all of them. I have registered all the songs with the U.S. Copy write Office. Ken chose not to pay for his half of the one song hecontributed to, and thus waived any rights he ever may have had for the use of this song! Instead we made a deal to cover his trouble where I sold him up to 100 copies of the cd at about HALF of my cost. He then re-sold them at a  profit. I financed 100 percent of
all studio time on this project and did not receive one single penny from Mr. Aronson. I also bought the rights from him to all the movie footage we shot of our London and Amsterdam vacation for $40 so I own the
rights to those as well. Here is the lyrics, and the proof that I own the copyrite in full!
OH ENGLAND
Co- Written By Eric Turnbow and Ken Aronson
Copyright Claimant: Song Rights Owned By E.T.© · on words, music & sound recording; Eric Turnbow, 1961- (E.T. Turnbow) Date of Creation: 1998 Work: Sound Recording and Music Registration Number / Date:
SRu000402834 / 1999-03-03
Title: I'm alive.
Description: Compact disc. Notes: Collection.
Copyright Claimant: © · on words, music & sound Recording;
Eric Turnbow, 1961-(E.T. Turnbow)
Date of Creation: 1998
Copyright Note: C.O. correspondence.
Names: Turnbow, Eric, 1961-
Turnbow, E.T.
The Library of Congress
United States Copyright Office
101 Independence Ave., S.E.
Washington, D.C. 20559-6000
202-707-3000
OH ENGLAND
Spoken ) England's a barrel of fun,
straight up, I wouldn't tell you no lie…..
(Chorus)
Oh England, whoa Oh
Oh England, here we go
Oh England, whoa Oh
Oh England, here we go
Take a trip to England,
fly across the sea
Take a trip to London,
just you and me
Hang out with the Beatles,
and sing at the BBC
Piccadilly Circus is the place to be
(Repeat chorus)
Dark fog is liftin',
as we hit Trafalgar Square
Red buses stacked up,
and tourists everywhere
Pigeons lit softly,
on the lion statue's hair
And the sound of music,
you could hear it in the air
(Repeat chorus)
Bed and breakfast,
with your best friend
Buckingham in the morning,
and it's off to see Big Ben
Black taxi's on narrow streets,
take us to Abbey Road
London's overwhelming,
makes us overload
(Repeat chorus)
Oh England, whoa Oh
Oh England, it's time to go
(Spoken) What-cha Mate!
Bloody come over on holiday to merry England
Do the pubs and clubs with a bird on each arm.
Tour by coach and drink a bevy on me gov'
Mr. Aronson does not even know who Micheal Moore is! He knew ahead of time about this project and had absolutely ZERO interest in it. He does not even know how to turn on a computer, let alone surf the net, so therefore he never could have contacted the film maker if he even wanted to. My email was chosen from 25,000 stories, and it is a miracle it made it into the film.
Mr. Moore had a 500 hour film that he had to trim to a mere 2 hours, yet my Abbey Road incident made the cut! Now that is some odds. Fantastic!
I think that Mr. Aronson is being an opportunistic imdividule in regards to  this whole incident. My screen time is 90 seconds, and his is, well about 4 seconds! Rather than complain about not being recognized, he should be thanking Micheal Moore, as well as Me, for including him in this project at all. Let's not lose sight of the real issue here! Let's take the focus off of any
"Credit due" and think about getting National Health care for every American! That is what this is all about! That is what is important. Our system sucks, and needs an overhaul. Let's not drop the ball and make a big deal out of nothing at all. Ken waived his rights to any compensation and credit. Now He may regret the fact that he sold off any rights he never had in the first place, So give me a break! This is just silly!
While you are at it go and see "Sicko". The movie rocks and I am very proud to be a part of it! My blogs and web pages, newspaper interviews, and komo radio appearances are all over the internet and translated
into different languages and everything. It has been awesome to be a small part of such a noble cause. It has been great reccognition for my business as well,and you can catch my Karaoke and DJ show 7 days a week
at the Viking Lounge (6318 Martin Way…. in Lacey
Washington).
As for Ken….. well, good luck to him. He likes to make mountains out of mole hills. His info is incorrect and certainly inaccurate. He needs to move on and get a life I suppose. this disgruntled attitude will not get him very far. In the meantime, I will see you in the movie aisles!I would be happy to discuss with you further. I am
passionate about this subject.
Thank You!
Mr. Eric Turnbow
email:   etcosmic2000@yahoo.com
website:   http://cosmickaraoke.com
phone:  360 943-7039
******************************************************************
So…. Many moons later, the next Chapter arrives:
Hoquiam man to Michael Moore: You stole my song
Washingtonian sues liberal filmmaker over use of song, video in 'Sicko'
By LEVI PULKKINEN, SEATTLEPI.COM STAFF Wednesday, April 28, 2010
A Western Washington man has filed a copyright lawsuit against Michael Moore's production company, claiming the film maker and political commentator unlawfully used his song in the 2007 film "Sicko."
Beginning the lawsuit with a quote from an interview Moore gave to MTV — "I'm not a big supporter of copyright laws in this country" — attorneys for Hoquiam resident Ken Aronson claim Moore's company stole a song and video he recorded while visiting London with a friend a decade ago.
Recounting the scene in a civil complaint filed with the U.S. District Court at Tacoma, attorneys for Aronson claim the video showed Aronson's friend attempting to cross Abbey Road, of Beatles fame, while walking on his hands. The man took a fall, injured his shoulder and was treated at an English hospital.
According to the complaint, Aronson's friend responded to a mass request for health care stories Moore sent to his fans in February 2006. The other man reported having difficulty getting medical care in the United States in the years before his English tumble, and remarked that the British system treated him better.
The man's submission, one of 25,000 submissions received by Moore's Dog Eat Dog Films Inc., was selected for inclusion in "Sicko," which offered Moore's take on the health care situation in the United States.
Allegedly unknown to Aronson, the man had kept a copy of the video. He provided it to Moore's production company along with a copy of the song "Oh England," both of which were included in the film.
Claiming Moore's company should have known Aronson was the videographer and copyright holder, his attorneys contend Dog Eat Dog Films failed to seek his permission to use either the video or song. Writing the court, attorney Thomas B. Vertetisclaimed Aronson's privacy was invaded by the video's inclusion in "Sicko."
"(Dog Eat Dog Films') unauthorized distribution of (Aronson's) home video gave publicity to a matter concerning (his) private life," Vertetis said in court documents. "As a result of the publication, Mr. Aronson suffered negative comment from community members and suffered negative impact to his business expectancy."
Since its release, the film has grossed more than $50 million. Aronson has asked the court to award him a portion of that, though no specific amount is stated in the complaint. Dog Eat Dog Films has not yet filed a response to the lawsuit.
****************************************************
So here is the Big Update! There was a Key Karma Ruling on all this greedy nonsense.  Judge Strombom's ruling,  included a mandated $10,000 fine against Aronson and ordered him to pay Moore's attorney fees. And they do not come cheap. This was a very expensive Ambulance chase! Well over 10 Grand if you count the Lawyer fees! (KARMA)!
Originally published Sunday, September 5, 2010 at 6:26 PM
Judge tosses out privacy claim against Michael Moore over 'Sicko' segment
A federal magistrate judge in Tacoma has thrown out key claims in a lawsuit filed against controversial filmmaker Michael Moore and his Academy Award-nominated documentary "Sicko," the first use of a state law that bars lawsuits targeting conduct associated with free speech and the First Amendment.
A federal magistrate judge in Tacoma has thrown out key claims in a lawsuit filed against controversial filmmaker Michael Moore and his Academy Award-nominated documentary "Sicko," the first use of a state law that bars lawsuits targeting conduct associated with free speech and the First Amendment.
Judge Karen Strombom last week granted Moore's motion to dismiss claims of invasion of privacy and "misappropriation of likeness" filed by Hoquiam resident Ken Aronson, ruling that Moore's use of 71 seconds of video belonging to Aronson was based on Moore's exploration of an issue of significant public concern — health care — and that its use was protected by the First Amendment.
A federal copyright-infringement claim survived, said Aronson's Tacoma lawyer, Thomas Vertetis. He said Aronson is considering appealing Strombom's ruling, which included a mandated $10,000 fine against Aronson and ordered him to pay Moore's attorney fees.
"This is a nasty law," he said. "It has a chilling effect on property rights."At issue was a snippet of video taken from several hours of tape Aronson shot while touring England with a friend, Eric Turnbow, in 1997.
It showed Turnbow attempting to walk on his hands across Abbey Road and falling, injuring himself. It also contained a brief snatch of a song Aronson composed and sang. According to court filings, Aronson's voice and photograph appear in 16 seconds of the tape.
Turnbow, a fan of Michael Moore's, sent tape to the filmmaker in 2006. Moore was soliciting stories about health care outside the U.S. Turnbow's shoulder injury was treated in a British hospital, and Moore used it to compare the health-care systems in the two countries.
However, Turnbow did not have Aronson's permission to send the tape, and Aronson never signed a waiver, although Turnbow did, according to the pleadings. Aronson sued, claiming Moore invaded his privacy and used his image and voice without compensation or permission.
Moore, whose film "Sicko" garnered a nomination for best documentary at the 2007 Academy Awards and grossed nearly $35 million worldwide, argued the video was used "in furtherance" of Moore's constitutional right of free speech in connection with an issue of public concern — health care — and was protected.
He relied on revisions to a 2002 law that have been on the books only since June sharply limiting what is known among First Amendment lawyers as "strategic lawsuits against public participation," or the Washington anti-SLAPP law.
****************************************************
Strombom noted that the Legislature found in 2002 such strategic lawsuits are often "designed to intimidate the exercise of First Amendment rights" and lawmakers saw fit to enact anti-SLAPP legislation to "encourage the reporting of potential wrongdoing to government entities by protecting reporting parties from the threat of retaliatory lawsuits."
Amendments to the law this past session "vastly expanded the type of conduct protected by the act," and allowed targets of SLAPP lawsuits to seek a special motion to dismiss claims early in the process. That's the provision under which Moore sought to dismiss Aronson's claim.
Moore's attorney in Seattle, Bruce Johnson, was the author of that legislation and said the idea was to give plaintiffs exercising their First Amendment rights and targeted by strategic lawsuits "an early resolution and dismissal of a claim" so they don't have to waste time and resources in court.Johnson, with the law firm Davis Wright Tremaine, also represents The Seattle Times. Vertetis, Aronson's attorney, said his client wasn't trying to do anything but protect what was his."This wasn't a strategic lawsuit," he said. "This is a good man who had his videotape used without his permission."
************************************************
Michael Moore Sees Charges Against Him & "Sicko" Film Thrown Out of Court
 September 16, 2010 1:04 PM
Michael Moore's film "Sicko" continues to deliver attention to the director. A federal magistrate in Washington state threw out major portions of a lawsuit filed against filmmaker Michael Moore and his documentary "Sicko." The Academy Award-nominated director's film deals with healthcare. A new state law prohibits lawsuits targeting conduct associated with free speech and the First Amendment. The Moore case was the first application of the law.The Seattle Times said U.S. Magistrate Judge Karen Strombom in Tacoma granted Moore's request to dismiss invasion of privacy and "misappropriation of likeness" claims. The claims were in the suit filed by Hoquiam, Wash., resident Ken Aronson.The magistrate judge said Moore's use of 71 seconds of video owned by Aronson was part of the debate on an issue of significant public concern, healthcare, and its use was protected by the free speech guarantees of the First Amendment, the Times said.The video was sent by Aronson's friend Eric Turnbow — Moore was asking for healthcare depictions from overseas — and showed Turnbow being injured and treated in England after trying to walk on his hands across Abbey Road in London.Turnbow signed a waiver but Aronson did not, the newspaper said.Though a claim of copyright infringement survives, Aronson was ordered to pay a $10,000 fine and Moore's legal expenses.Aronson's lawyer said he is considering an appeal.
******************************************************
Anti-SLAPP Law Used To Protect Michael Moore's Use Of Video Clip
from the slapp-back dept
We've been covering various stories about anti-SLAPP laws — the important set of (state) laws that protect people who are sued not for any significant legal reasons, but in order to silence them — and there's been a first ruling on Washington State's anti-SLAPP law, which is a bit different than the typical anti-SLAPP ruling. Thomas O'Toole points us to the news that filmmaker Michael Moore has prevailed over a privacy rights claim that was brought against him. Whatever you think of Moore as a fillmmaker (and, seriously, please don't turn the comments into a pro/con fight over Moore), this case is pretty interesting.
It involved a clip that Moore used in his film Sicko, that was sent to him by the subject of the video, but not by the guy who filmed it:
At issue was a snippet of video taken from several hours of tape Aronson shot while touring England with a friend, Eric Turnbow, in 1997. It showed Turnbow attempting to walk on his hands across Abbey Road and falling, injuring himself. It also contained a brief snatch of a song Aronson composed and sang. According to court filings, Aronson's voice and photograph appear in 16 seconds of the tape.

Turnbow, a fan of Michael Moore's, sent tape to the filmmaker in 2006. Moore was soliciting stories about health care outside the U.S. Turnbow's shoulder injury was treated in a British hospital, and Moore used it to compare the health-care systems in the two countries. However, Turnbow did not have Aronson's permission to send the tape, and Aronson never signed a waiver, although Turnbow did, according to the pleadings.
Aronson then sued, saying it was a violation of his rights, but the court tossed it out and ordered that Aronson pay Moore for filing a SLAPP lawsuit. Aronson's lawyer, not surprisingly, was not at all happy with the ruling:
"This wasn't a strategic lawsuit," he said. "This is a good man who had his videotape used without his permission."
It's definitely true that this does seem to be a rather broad interpretation of a SLAPP, but on the whole, such anti-SLAPP results are a good thing for free speech. Threatening or suing people for making a statement of any kind is problematic if you believe in free speech rights. It will be worth watching to see if there's an appeal in this case, as it could really bring out some questions about the limits on anti-SLAPP rulings (at least in Washington… but it could impact laws elsewhere).
Sep 9th, 2010 @ 9:40am
http://ericturnbow.com/
Reading through the site's main page (I'd link to a specific section, but can't – poor site coding) it appears that Turnbow owns the copyright to the song – purely. Aronson gave up his rights to that for 100 CDs of the album that he only helped in writing a part of the lyrics for one song.The video though, that's another story… Here's my question – if Aronson had wanted to send it in, he would have absolutely had to get a waiver from Turnbow, as he was the "subject" of the clip. I mean, that's why they fuzz out faces on Cops, right? But what about Turnbow? It looks to me like this may be one of those shitty Joint Ownership things, where the "Author" (in this case, Aronson) would own the rights, but couldn't do squat without permission from the subject, Turnbow. I dunno. It's all just silly really.Last point though, couldn't this all be done under Fair Use? I mean, it was for "educational" purposes (though Moore made dough, obviously).
In an atypical use of an anti-SLAPPS law, in 2010 a federal magistrate dismissed a copyright infringement suit against Michael Moore's production company stemming from his having used a clip from Ken Aronson's own film documenting his friend Eric Turnbow's mishap in England. See Aronson v. Dog Eat Dog Films, INc., 2010 U.S. Dist. LEXIS 91417 (W.D. Wash. 2010).
Ken Aronson, the man who sued Michael Moore's film company for using 71 seconds of his film footage for the documentary "Sicko," is appealing a
federal judge's order
last week to dismiss his invasion of privacy and misappropriation of likeness claims on free speech grounds. The Ninth Circuit Court of Appeals will be asked to review whether Moore's use of the video is allowed under the First Amendment and whether the judge should have applied Washington state's new anti-SLAPP law in throwing out key claims. Certainly a case to watch.
Michael Moore Sued for "Sicko" Video
Apr. 30 2010 at 10:27 AM
Annoying? Maybe. Guilty of copyright infringement? Probably not.
​Ken Aronson of Hoquiam claims he's got grounds to sue bullhorn-wielding documentarian Michael Moore. But judging by the lawsuit he's just filed in Tacoma, it sounds like his real beef is with a friend.A decade ago, Aronson was in London when he decided to record said pal crossing Abbey Road on his hands. The friend fell, hurt his shoulder and was treated at an English hospital.
Flash forward a few years. Before filming his 2007 jeremiad against the health care industry, Moore's production company puts out a call for user-submitted tales of woe. Aronson's friend sends video of their London trip along with a song they wrote to commemorate the occasion, called "Oh England."
It portrayed an American talking about the higher standard of care in British hospitals, so Moore decided to use it. And that's when Aronson decided his copyright had been infringed.
Aronson claims he had no idea his friend kept the film. And says that Moore should have first contacted the original owner (him) to ask for permission before putting it in his movie.
Aronson's lawsuit doesn't specify how much money he's seeking. It just asks the court to award him part of the $50 million "Sicko" grossed, due to the "negative impact" it's had on his "business expectancy."